TROTRO Tractor
Overview
In Ghana, agriculture is the country's most important economic sector and the largest employer. But many farmers lack the tools they need to prosper. Innovation in this sector is therefore vital to Ghana's future growth.
TROTRO Tractor Limited is a powerful on-demand platform that connects farmers to nearby tractor operators. Using mobile phones and GPS, it enables farmers to request, schedule and pre-pay for tractor services, giving them greater access to mechanized farming equipment, when they need it. In this way, TROTRO Tractor's agricultural technology directly helps both farmers and tractor operators in Ghana to enhance productivity and improve incomes.
The Solution
With the launch of the Kosmos Innovation Center's (KIC) AgriTech Challenge in Ghana in 2016, an annual competition to identify young entrepreneurs, participants are encouraged to spot opportunities to transform the country's agricultural sector through innovation, powered by technology.
As part of the KIC AgriTech Challenge, individual competitors join together to establish teams. One such team formed TROTRO Tractor, which started its journey when three young, passionate men — Kamal Yakuk, Emmanuel Ansah-Amprofi, and Adam Muhideen Muhammed — signed up to take part in the competition.
They quickly realized that mobile technology had a prominent role to play in agriculture startups. Reflecting on everyone's experience, skills, and interests, Kamal was appointed CEO, Adam CTO, and Emmanuel COO. Coming from cattle and vegetable farming backgrounds, the team was committed to revolutionizing the agricultural space.
To ensure teams fully understand the challenges faced by those in Ghana's agricultural sector, market research tours were organized by the KIC early in the program. The 2016 participants visited five regions in Ghana – the Greater Accra, Volta, Eastern, Ashanti, and Brong-Ahafo regions – over two weeks. This gave them a unique opportunity to interact directly with farmers and others in the wider industry. During these meetings, the young entrepreneurs — also known as the "ArgiTechies" — tested their assumptions, business ideas and collected valuable data and feedback.
It was here that TROTRO Tractor refined their business model and realized the potential of adopting a sharing economy approach, like that of ride-share company Uber, to tractor renting.
After months of rigorous pitch and elimination events, where participants present their business plans to an expert panel of judges for critical review and feedback, TROTRO Tractor was named the first start-up company to win the KIC Agritech Challenge in 2016.
TROTRO Tractor received $50,000 seed-funding from Kosmos Energy and entered the Meltwater Entrepreneurial School of Technology (MEST) incubator. Here, the young company received more training and support designed to help them grow and scale-up successfully.
Speaking about their time in the program, TROTRO Tractor commented: "It is difficult to summarize all the extensive and continuous business development support [we received] from experienced mentors and industry leaders in their own fields, arranged for us by Kosmos. It has simply been a great opportunity and a great time for us."
"We joined the Kosmos Innovation Center as individuals with different objectives. We came to the end of the programme as a team with a product, a business and the goal of making agriculture an attractive sector for other youth entrepreneurs to participate in."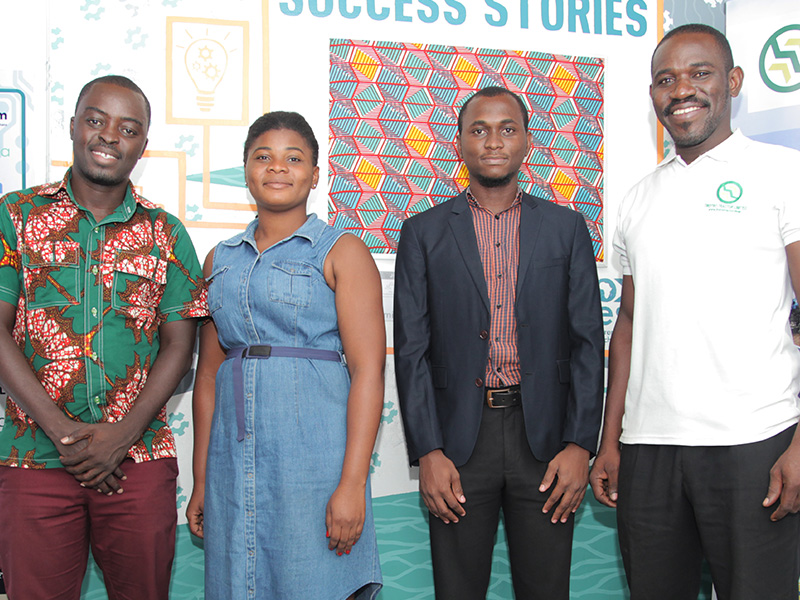 Where they are today
Since winning, TROTRO Tractor has grown to seven employees and signed up over 30,000 farmers in Ghana for its tractor sharing services. The company has been nominated for numerous innovation awards, such as the 2016 British Council Duapa Challenge and the 2017 Premium Bank Ghana Startup Awards. It has also secured additional investments in order to continue scaling its successful business.     
The company's success also led them to participate in the Enterprise Africa Summit, hosted in Accra and sponsored by Kosmos. The summit provided a forum for key stakeholders – development partners, government, civil society, academia, businesses community, and entrepreneurs – to explore the nexus between entrepreneurship and economic development in Sub-Saharan Africa. The company gained international visibility and built new business connections. The start-up also visited Silicon Valley in California as part of a government delegation in 2018.
TROTRO Tractor's revenue is expected to be 10.9 million Ghana cedi ($2.5 million) by 2022. The founders, Kamal and Emmanuel have gone on to become volunteer business mentors in the Next Generation Cocoa Youth Program at Ahesi University.