Soil Solutions
Overview
Around the world, it's important for farmers to have detailed information about one of their most important resources: their soil. However, many small-scale farmers in Ghana lack access to facilities that can test the nutrient makeup of the soil they use to farm. Helping farmers to gain access to information about their soil is important to ensure farmers have the best chance to produce a healthy crop.
Soil Solutions created an at-home, do-it-yourself soil test kit to help small-scale farmers. Using simple tests that provide farmers with information about their soil nutrients, Soil Solutions is supporting Ghanaian farmers with the essential knowledge to produce an abundant crop.
The Solution
The Kosmos Innovation Center's (KIC) AgriTech Challenge, an annual competition held in Ghana, encourages young entrepreneurs to spot opportunities to transform the country's agricultural sector through innovation, powered by technology.
As part of the KIC AgriTech Challenge, individual competitors join together to establish teams. Soil Solutions started its journey when three young, passionate people — Edna Tetteh, Moses Samanhyia, and Dennis Appiah-Sasraku — signed up to take part in the competition.
They quickly realized that mobile technology had a prominent role to play in agriculture startups. Reflecting on everyone's experience, skills, and interests, Dennis was appointed Team Lead, Edna as Operations & Marketing Lead, and Moses as Tech Lead. Coming from diverse backgrounds including banking, computer science, and telecom engineering, the team was committed to helping farmers across Ghana.
To ensure teams fully understand the challenges faced by those in Ghana's agricultural sector, market research tours were organized by the KIC early in the program. The 2016 participants visited five regions in Ghana – the Greater Accra, Volta, Eastern, Ashanti, and Brong-Ahafo regions – over two weeks. This gave them a unique opportunity to interact directly with farmers and others in the wider industry. During these meetings, the young entrepreneurs tested their assumptions and business ideas and collected valuable data and feedback.
Through engaging with farmers across Ghana, the team gained the insight that many do not know the quality and health of the soil they use to support their livelihood. Not knowing what nutrients are in their soil means that farmers are blind when fertilizing and growing their produce.
The team developed an at-home test for farmers to analyze their soil for pH level as well as nitrogen, phosphorus, and potassium. Additionally, once farmers get their test result, the team couples the results with advice on the type of crop best suited for the soil environment and for the type of fertilizer to apply. By bringing the test results together with recommendations, Soil Solutions provides a genuine support service to help farmers have a successful crop.
After months of rigorous pitch and elimination events, where participants present their business plans to an expert panel of judges for critical review and feedback, Soil Solutions was selected as one of the runners up to receive further support and funding.
Speaking about their time in the program, Soil Solutions said: "The KIC is a great learning experience that helps you think creatively and develop solutions to real problems. We joined the KIC with an idea for a business, and thanks to supporting and mentoring from the team, came to the end with a viable product, a functioning business, and real customers."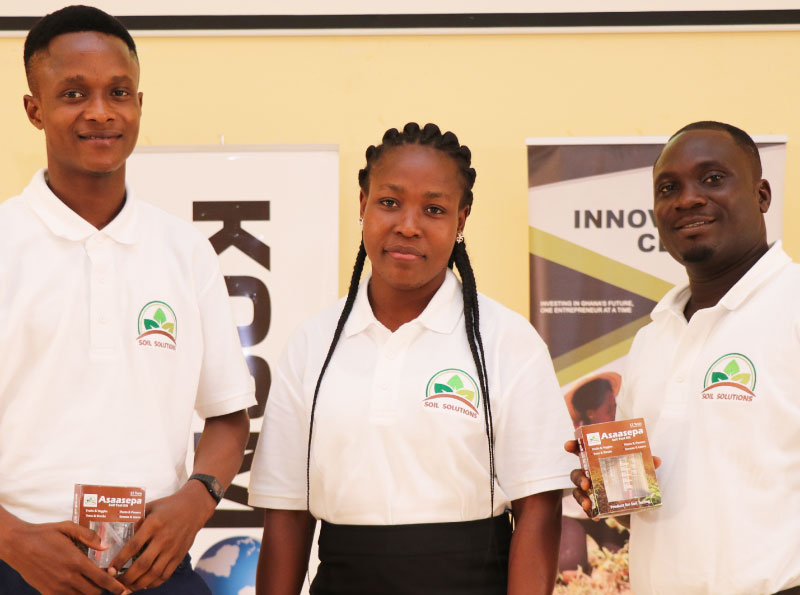 Where they are today
With further support from the KIC, Soil Solutions is continuing to develop their business model so it can reach farmers across Ghana and across Africa.