AgroInnova
Overview
The Ghanaian poultry industry is valued at $250 million representing 5.6% of Ghana's total GDP (2016), however according to MOFA, Ghana's poultry production was only able to meet 20% of overall demand, representing $50 million, with a production deficit of 80% in 2016.

Agrolnnova recognised that the high demand for poultry products to feed an ever-growing population needed state-of-the-art best farm management practices and adoption of technology and innovation.

The Solution
AgroInnova, with its product AKOKOTAKRA, is an enterprise mobile and web-based management system that allows poultry farmers to record, monitor, and track their operations in real time. With this innovative and comprehensive tool, poultry farm managers have their farms "at their fingertips" for more effective and efficient operations.  

AgroInnova started its journey when 100 young, ambitious entrepreneurs signed up to take part in the 2017 KIC AgriTech Challenge. AgroInnova was one of two winning start-up companies from this group.

The KIC AgriTech Challenge is an annual competition that identifies young people who are interested in becoming entrepreneurs and provides them with best-in-class business and leadership training. The Challenge aims to drive innovation in agriculture, encouraging participants to spot untapped or new business opportunities in the sector.

The co-founders of AgroInnova came from all over Ghana and met during the networking session organized for the new entrepreneurs as part of the KIC AgriTech Challenge.

The team bring different skill sets but all share a passion about building sustainable businesses and animal farming. The CEO Amos Narh Doku has a background in accounting and finance, the CPO Kelvin Kotey Ashie has a degree in Construction Technology and Management. The COO Moses G. Mallaghan COO has a math degree and hands-on experience in poultry farming. The CTO Patrick Ofosu-Agyemang is a certified Microsoft Security Fundamental expert and is skilled in programming languages such as PHP and Java.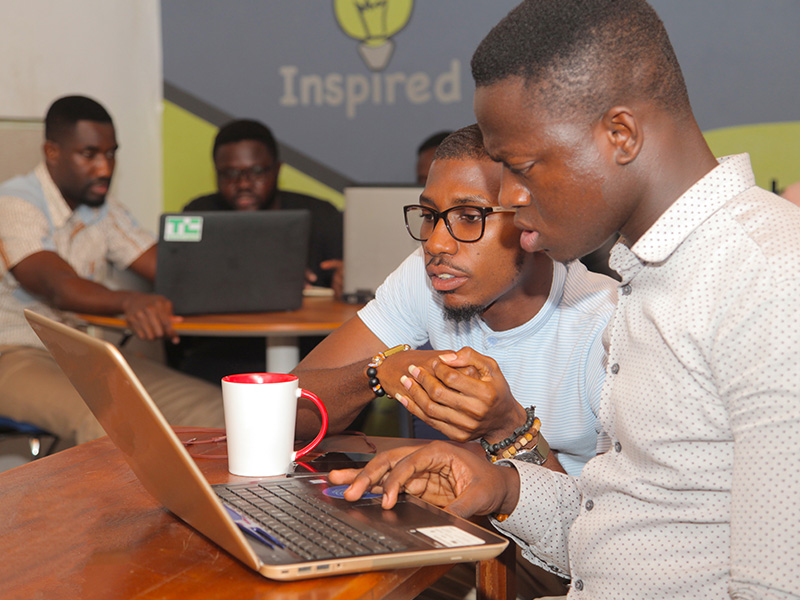 Where they are today
Through the KIC AgriTech Challenge, the AgroInnova team has turned its product from concept to reality. They have run the first phase of piloting their software with Poultry Farms in Greater Accra, Ashanti and Brong-Ahafo Regions. The pilot was tested with farms using online and offline versions of the Akokotakra Software to measure the potential of access and usability in areas with little to no internet connectivity.

With great feedback on how the software is empowering farms to gain data-driven decision making, AgroInnova is determined to help Ghana's poultry industry prosper through innovation and technology adoption.

Working closely with the Ghana National Association of Poultry Farmers (GNAPF), the National Chairman Mr. Victor Oppong Agyei has been very supportive and endorsed their technology to poultry farms nationwide.

The future is bright for Ghana's poultry industry to scale up and become a competitive industry powered by innovation and cutting-edge technology offered by companies like AgroInnova.

"The core of our business is to maximize efficiency for the agricultural industry through the power of technology. The KIC AgriTech competition means that we are getting the chance to empower smallholder farmers to diversify their income and improve their livelihoods." – Kelvin Ashie, AgroInnova CPO

"The KIC programme has been a great inspiration but more importantly, it is an opportunity for us to build a business, help farmers, create jobs and provide food security for Ghanaians.  To quote from Kosmos, small footprint, big impact!" – Amos Narh – AgroInnova CEO