Farm Cure
Overview
Agriculture makes up 40% of Ghana's GDP – so if imports of agricultural products from Ghana are blocked by other countries, it poses a major risk to the Ghanaian economy. On at least two occasions, in 2012 and 2015, the European Union has banned certain vegetable imports from Ghana because the produce was exceeding the maximum permitted level of pesticide residue for human consumption.
As a result, vegetable exporters in Ghana are subject to stringent checks for both pesticide levels and must remain vigilant against the pests themselves. The market is ripe for investment in new methods of pest production, including pest traps.
Farm Cure's pest traps are supplemented by a mobile app which can help identify insect pests on vegetable farms and predict subsequent infestations on the same or nearby farms. The app also recommends best practice to help mitigate the impact of any pest.
The Solution
It was 'seeing the plight of farmers' during KIC-funded market research that was the initial inspiration for the Farm Cure team to create their technology. As part of the KIC AgriTech Challenge, all participants get the opportunity to receive training, mentoring, and support to develop their business, including fully-funded research trips to meet potential customers for their future business.
Individual competitors then join together in teams to progress their business ideas. With help from the KIC mentoring team – and 'a lot of agonizing over pros and cons' – Farm Cure was up and running.
Kosmos Energy came in useful for the Farm Cure team in many ways beyond the day-to-day KIC program. Kosmos helped Farm Cure finalize their deal with the Ministry of Agriculture, and introduced them to other successful KIC teams TechShelta and Qualitrace, who are now partners. The team also credit the KIC for helping them to 'think outside the box'.
"We started this journey with the intention to simply produce and sell the traps, but now have a fully-functioning scanning and analyzing mobile application and are also looking into producing maximum residue level testing kits in the near future," said Stephen Wesono, CMO of Farm Cure. "Although winning the grand prize is very important to each team, each stage of the challenge has been a rewarding experience during which each participant would agree that they gained something. For example, I am now more confident in myself. In any case, Farm Cure is where it is now because of KIC."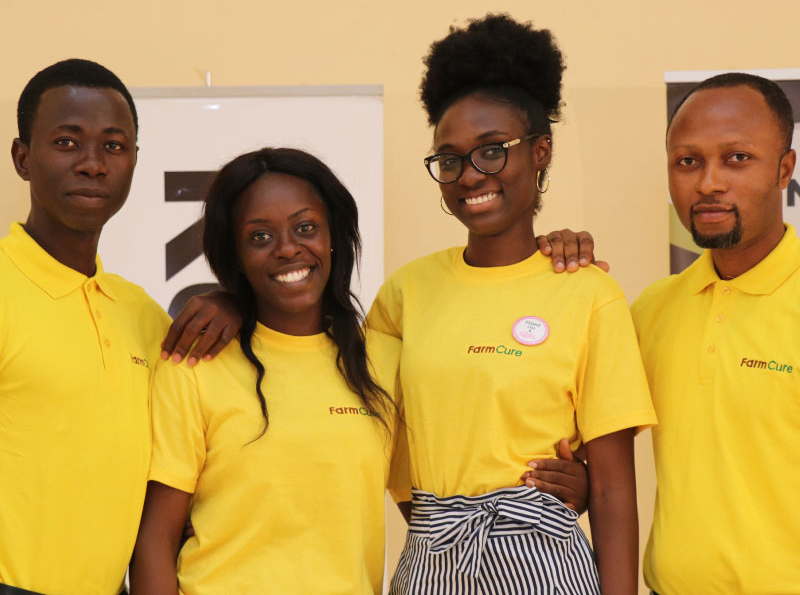 Where they are today
Farm Cure has now made its first sales to consumers and is finalizing partnerships that will significantly increase sales. They are looking to add their products to packages of vegetable seed, reduced the initial machine cost, and are looking to distribute pesticides from recognized companies to further improve best practice in the sector.
The team made it to the final eight of the 2018 KIC AgriTech Challenge, and continue to use their talents and all they have learned to establish relationships with the organizations like USAid and the Vegetable Producers and Exporters Association Ghana.