Agro Sourcing
Overview
In Ghana, as across the world, minimizing waste from industry is crucial to building a more sustainable approach to the use of natural resources and the protection of the environment. Each year, more than a million tons of agricultural waste is generated from farming in Ghana.
Agro Sourcing works with agricultural companies to provide a viable, cost-effective alternative to traditional waste disposal. They source buyers for waste material who can use it across industries from cosmetics to energy production.
The Solution
A crucial difference between Agro Sourcing's solution and those of other companies is their unique logistics model. By finding efficiencies across the logistics network, including utilization of storage facilities and delivery vehicles, they can provide a lower cost and enhanced service, delivering just-in-time to meet customer needs.
The founding of Agro Sourcing comes at a time when the industry is finding more uses for products that would formerly have gone unused. The likes of cocoa pods, palm kernel shells, coconut husks and rice husks are all currently seeing increased industrial use.
The local cosmetic industry in Ghana uses potassium carbonate as a production input. This can be made purely from cocoa pods. Biomass waste can be used in renewable energy production and various agricultural residues are used in animal feed and fertilizer. The total addressable market for the use of agricultural residue in Ghana already stands at over $400 million.
As part of the 2018 KIC AgriTech Challenge, individual competitors join together to establish businesses. One such team formed Agro Sourcing, having been encouraged by the KIC to spot opportunities to transform the country's agricultural sector through innovation powered by technology.
Justice Amenorpe, Richmond Nutsuglo, Isaac Asiedu and Joseph Bryden became the founding partners of Agro Sourcing. The team had been inspired by the example of Elijah Addo, who runs a social enterprise that utilizes unused food from restaurants to feed people in need.
Speaking about how the KIC helped develop him and his business, Isaac Asiedu said: "The Kosmos Innovation Center gave us the kind of exposure that few other places could provide. Within the period of the program, we were able to refine our business model to ensure sustainability and scale. Most importantly, we learned how to work together as a team. Any budding entrepreneur who has heard about KIC would be doing themselves a great service by deciding to apply."
Justice Amenorpe said he had "always wanted to build something greater than himself," when talking about his inspiration for joining the KIC.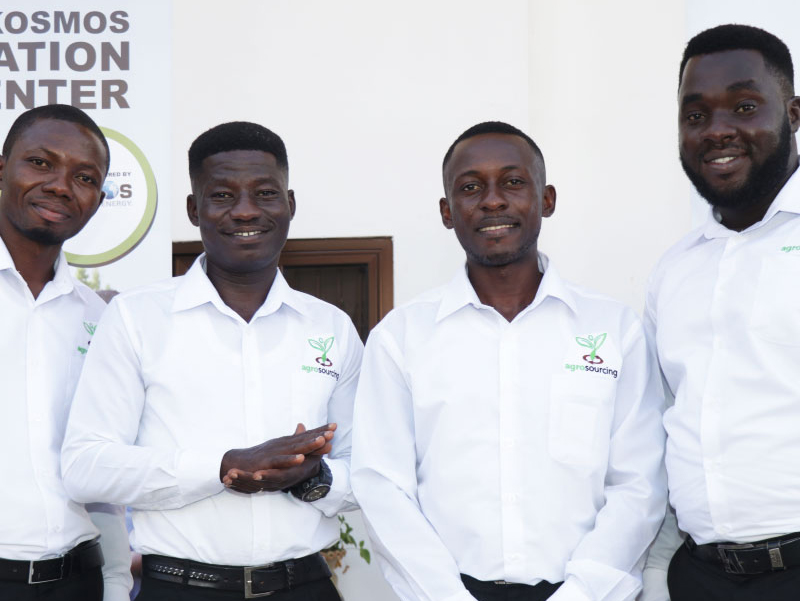 Where they are today
Agro Sourcing made it all the way through to the final 8 businesses in the 2018 KIC AgriTech Challenge final pitch event. At the event they were able to sell their business ideas to investors, having received training, mentoring and support throughout the program to bring their business ready to go to market.
We look forward to seeing Agro Sourcing go from strength to strength in the years to come.