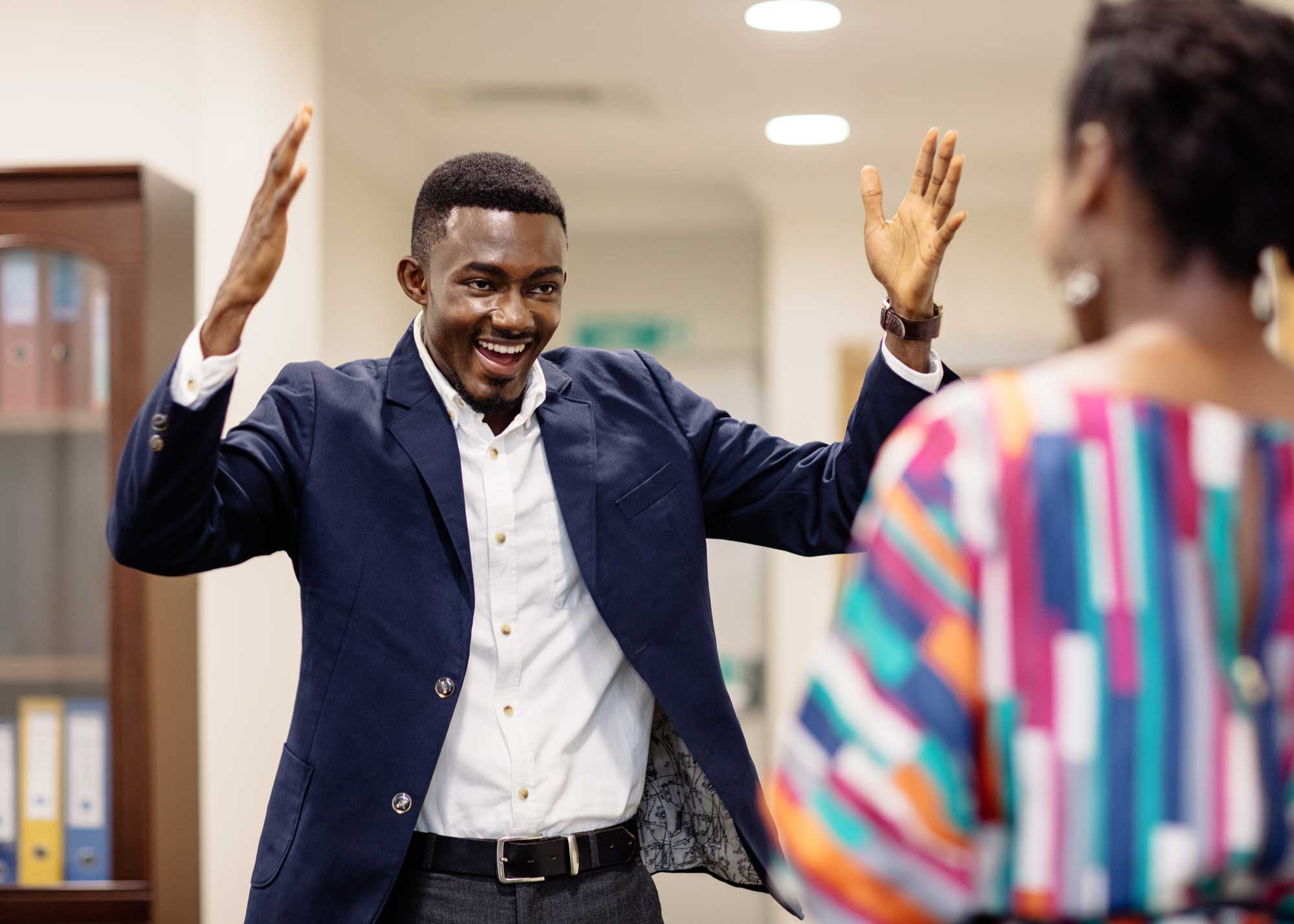 Winners of the first Mauritania Innovation Challenge announced
18 February 2019 – Kosmos Energy today announces the winners of the Mauritania Innovation Challenge, a competition where young entrepreneurs are challenged to develop the skills needed to grow their own viable, innovative businesses in just six months. The finalist projects tackle issues in a range of sectors including education, health, agriculture, e-commerce, delivery, waste management and security.
More than 170 young people applied to be part of the inaugural Mauritania Innovation Challenge, out of which 33 were shortlisted and interviewed, and a final 12 entrepreneurs were selected to compete. The 12 finalists have had customized business skills and capacity building, individual coaching and expert mentorship to turn their innovative ideas into reality. Participants also conducted market research and built prototypes of their products to test and prove viability.
Kosmos Energy awards customized prize packages to five winning businesses, featuring a mix of business development seed-funding and access to year-long coaching, technical assistance and advice to help ensure their continued growth. First and second place winners will receive a grant of USD 20,000 seed-funding. Third place will receive USD 15,000, while fourth and fifth place teams will receive USD 11,000 from Banque Mauritanienne pour le Commerce Internationale (BMCI) and SEPCO. Sixth and seventh will receive $5,000. The seed-funding will be distributed over the course of one year based on making progress on developing their products and specific product development costs.
All winners will receive follow-up training, introductions to mentors and investors, and further support on business matters including business planning, marketing, accounting, and management.
The winners of the first Mauritania Innovation Challenge are:
Daadoo BTP, USD 20,000: Daadoo is a plastic recycling project that mixes plastic with cement to produce salt-resistant pavers and bricks for construction.

Smart Trash, USD 20,000: Smart Trash is a waste management software that uses artificial intelligence to locate and collect bins and garbage within the city of Nouakchott.

Smart Remit, USD 15,000: Smart Remit is a fintech project aimed at providing a secure online payment service that will make it possible to transfer money within Mauritania and from abroad. It is an alternative to the PayPal service.

Addanam, USD 11,000 (sponsored by BMCI): Addanam is a home delivery service, an alternative to the HelloFood and Jumia Food services.

3D Animation Studio, USD 11,000 (sponsored by SEPCO): 3D Animation Studio is a project to make 3D short films and videos for informational and promotional purposes.

YATA Medical, USD 5,000: YATA Medical is a telemedicine platform aimed at connecting doctors and health professionals in Nouakchott and surrounding rural areas for remote consultations.

Hadanat, USD 5,000: Hadanat is an educational project that will allow children to improve their skills in one or more languages. It is a platform created for Mauritanian children born or raised abroad and who do not speak their mother tongue (Pulaar, Wolof, Soninke or Hassanya) very well.
Ismail Sid Ahmed, Kosmos Energy Country Manager, said: "Entrepreneurs and small business play a vital role in the creation of employment, while also strengthening economic diversification and market competition. At Kosmos, we are committed to being a long-term partner to our host countries and, through this program, we are investing in Mauritania's future one entrepreneur at a time.
"We have been thrilled by the enthusiasm of all the participants and are delighted to have the funding support from BMCI and SEPCO for the final winners too. We are very excited to confirm a second Mauritania Innovation Challenge will be taking place and the application for entries will open very soon."
Haroune Sidatt, DAI Global Project Manager said: "This initiative is unique in Mauritania and complements the entrepreneurship ecosystem transformation that is happening today. We have first-hand the personal growth of the young participants and are truly excited to see how their businesses develop and what they will do in the future. The coming incubation phase will play an important role in building the sustainability of the projects, creating future employment and wealth inshallah."
Applications to the second KIC Mauritania Innovation Challenge open in April 2019. For women interested in taking part, dedicated support and training will be available as part of the recruitment process. For more, visit and follow the Kosmos Innovation Center Mauritania Facebook page (www.facebook.com/KosmosInnovationCenter) for future announcements.
Other companies or partners that want to be involved in supporting the work of the KIC are also encouraged to make contact.
The Mauritania Innovation Challenge is modeled on the Kosmos Innovation Center in Ghana, which has successfully trained 270 young, agri-tech entrepreneurs to date. The entrepreneurship programs offered through the Kosmos Innovation Center are part of Kosmos Energy's approach to social investment in the countries where it works, contributing to a country's future sustainable development.